Natural Scoliosis Treatment in Hansen Chiropractic for the Communities of Babylon, Long Island, West Islip, Lindenhurst, and Copiague, NY
At Hansen Chiropractic, our chiropractor welcomes patients from the surrounding communities of West Babylon, Babylon, Long Island, West Islip, Lindenhurst, and Copiague. Rather than take daily medication or live in pain, come see us. We'll remove the cause of your pain, restore your alignment, and help you find wellness and not disease.
What are the Symptoms of Scoliosis?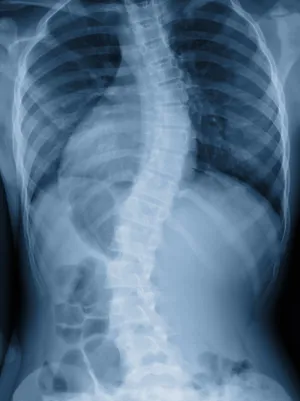 Scoliosis is characterized by a twist or curve in the spine, giving it an S shape. Along with the misshapen spine, which can be readily observed, many scoliosis sufferers have an uneven waist, where one side sits higher. Physical deformity and muscle spasms also occur.
Scoliosis may be mild, moderate, or severe in form. The most common type of scoliosis, idiopathic, has no known cause. Many people experience pain associated with the symptoms of scoliosis. The condition usually develops in children, although adults may come down with scoliosis.
Traditional treatment options focus on a back brace for support or surgery to correct the spinal twist. Rather than try these extreme and expensive options, why not consider chiropractic care of scoliosis first? There are many ways that chiropractors can reduce the symptoms of scoliosis using while body and spine therapies.
Traditional chiropractic care allows us to adjust the spine to take pressure off the curve. The goal with chiropractic is not to reverse the curve but to manage pain and prevent the curve from worsening.
In addition to traditional adjustments, our chiropractor offers the upper cervical chiropractic technique, which only adjusts the top two vertebrae. Our chiropractor will choose one of these methods or integrate both into your care to provide the biggest wellness benefit to you.
Chiropractic adjustments cleanse the nervous system of subluxations and impingements that prevent the brain and body from communicating with one another. When your nervous system is strong, your entire body benefits from natural pain relief and self healing of many conditions, including scoliosis symptoms.
Scoliosis may cause muscular tension around the affected area. Our chiropractor can treat muscle tension using several different physiotherapies. We offer trigger point therapy, which uses pressure to release tension trapped in the muscles. We have the VibraPercussor Myofascial release technique, an alternative to massage therapy that releases tension and encourages healing. Cold laser therapy uses a low level laser to initiate healing and increase circulation in joints and muscles.
If you are overweight, you may feel increased scoliosis pain in your joints. By losing weight, you can take some of this pressure off your joints so you feel better and can move more freely.
To promote whole body health and support wellness, we can also recommend supplements that will decrease inflammation and increase wellness. Our recommendations allow you to support your health and treat pain naturally in between appointments at our Long Island chiropractic clinic.
We offer new patients a free consultation with our Long Island chiropractor. If you live in West Babylon, Babylon, Long Island, West Islip, Lindenhurst, or Copiague and want to explore natural scoliosis treatment, we encourage you to call us now! Reserve your spine consultation today on our website or by calling us at 631-237-9029. There is nothing to lose, and so much to gain, by exploring our nervous system treatment options for scoliosis.